Dubrovnik is a beautiful UNESCO coastal city in the south of Croatia. It is often known as the 'Pearl of the Adriatic' given its famous medieval Old Town, massive stone walls, and stunning landscapes — and well, of course, it is also well-known for being the filming location of the HBO hit series: Game of Thrones. (Things to Do in Dubrovnik)
As it towers over the azure Adriatic sea, it's definitely not hard to see why thousands of travelers flock to this beautiful maritime town every year. No matter the number of days you'll be staying, there are so many cool things to do in Dubrovnik, as well as beautiful places both in the city and its surroundings that are worthy to be explored for your Croatia itinerary.
So whether you plan on being in town for a day or more, here are the best things to do in Dubrovnik that you should consider!
.
Where to Stay in Dubrovnik?
Come and check out my list of the 'Best Hotels in Dubrovnik' which features the top recommended choices for cheap to luxurious accommodation choices.
.
.
Things to Do in Dubrovnik
1.
Walk the City Walls
.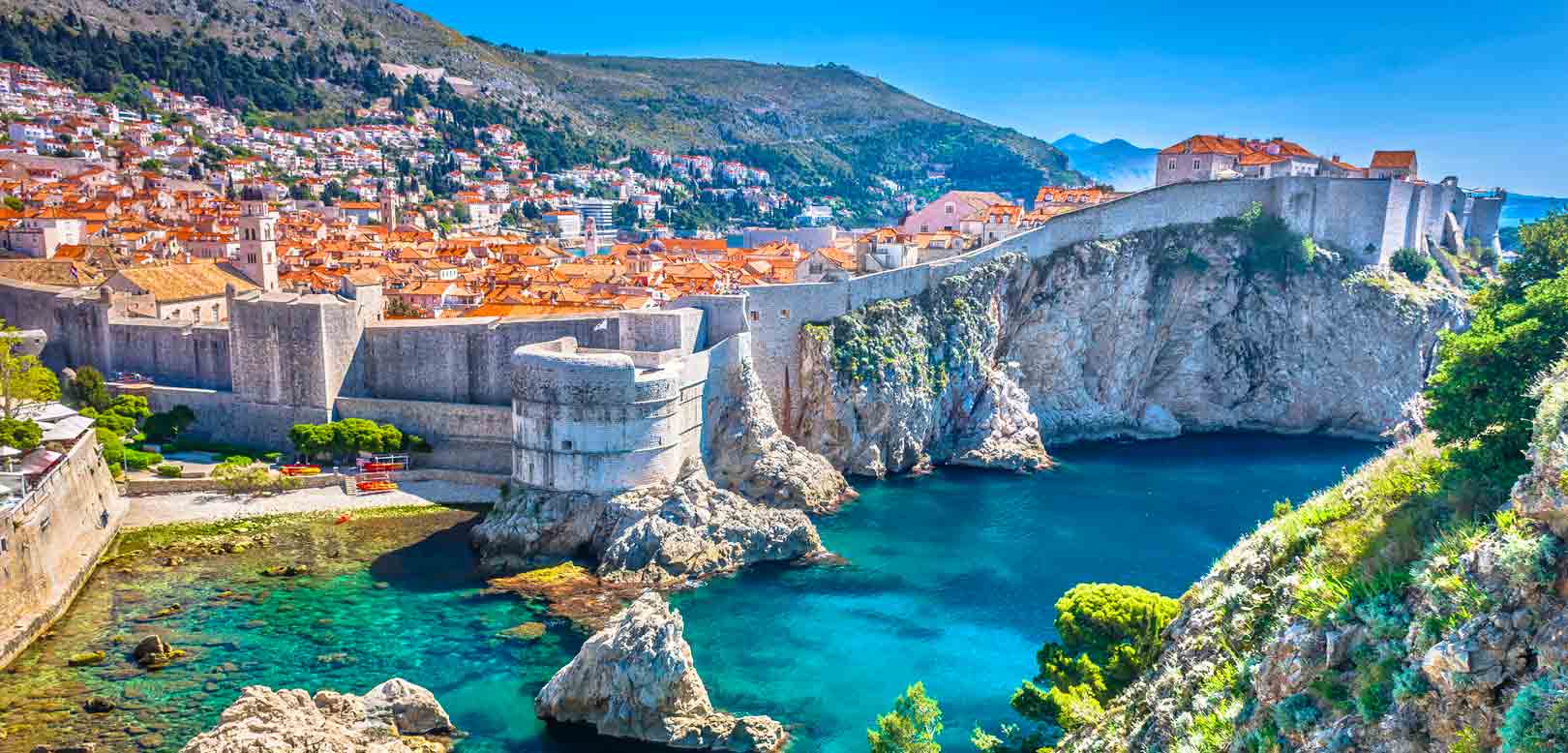 Walking along the city walls tops the list of essential things to do in Dubrovnik! These impressive fortifications thread around the Old Town and it's a great way to familiarize yourself with the layout of the city.
It helps to note that the entire old town is two (2) kilometers long and consists of 17 towers, 5 bastions, two corner fortifications, and the St. John Fortress. It takes approximately two hours to walk the entire loop around the city and it has some of the best photo opportunities in Dubrovnik — after all, you'll see stunning sea views at every turn. Try to spot Lovrijenac Fort along the way which is a 40-meter spur above the sea that serves not only as one of the city's defensive installations but also a picturesque spot.
TIP: You can avoid the long queues at the entrance if you book your tour and passes online.
.
.
2.
Wander the Old Town
.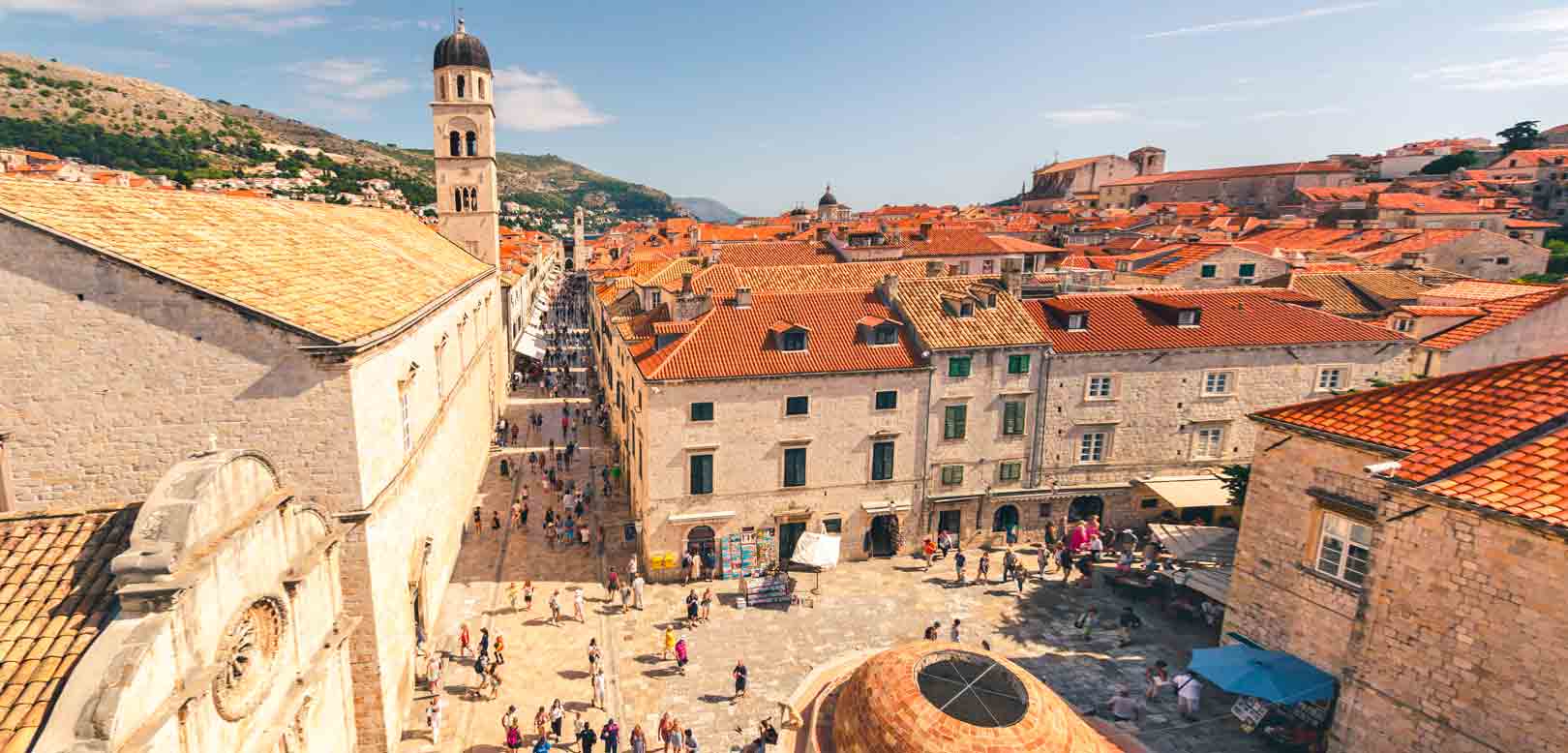 Dubrovnik's Old Town is located within the city walls and it is built entirely of white stones that are polished through the ages, as well as filled with Gothic, Renaissance and Baroque palaces, churches, and monasteries.
The narrow streets are also filled with restaurants and small shops — perfect places for pit stops on a leisurely stroll throughout the city. Don't forget to walk along The Stradun which is considered as the main highlight of the Old Town and a popular Star Wars filming location. Meander through the Placa which is old Dubrovnik's main street and witness other key landmarks such as the Franciscan Monastery, Dubrovnik Cathedral, Sponza Palace, Clock Tower, Orlando's Column, and many more.
TIP: To save time and effort, join an organized Old Town guided tour.
.
.
3.
Take a Cable Car up to Mt. Srd
.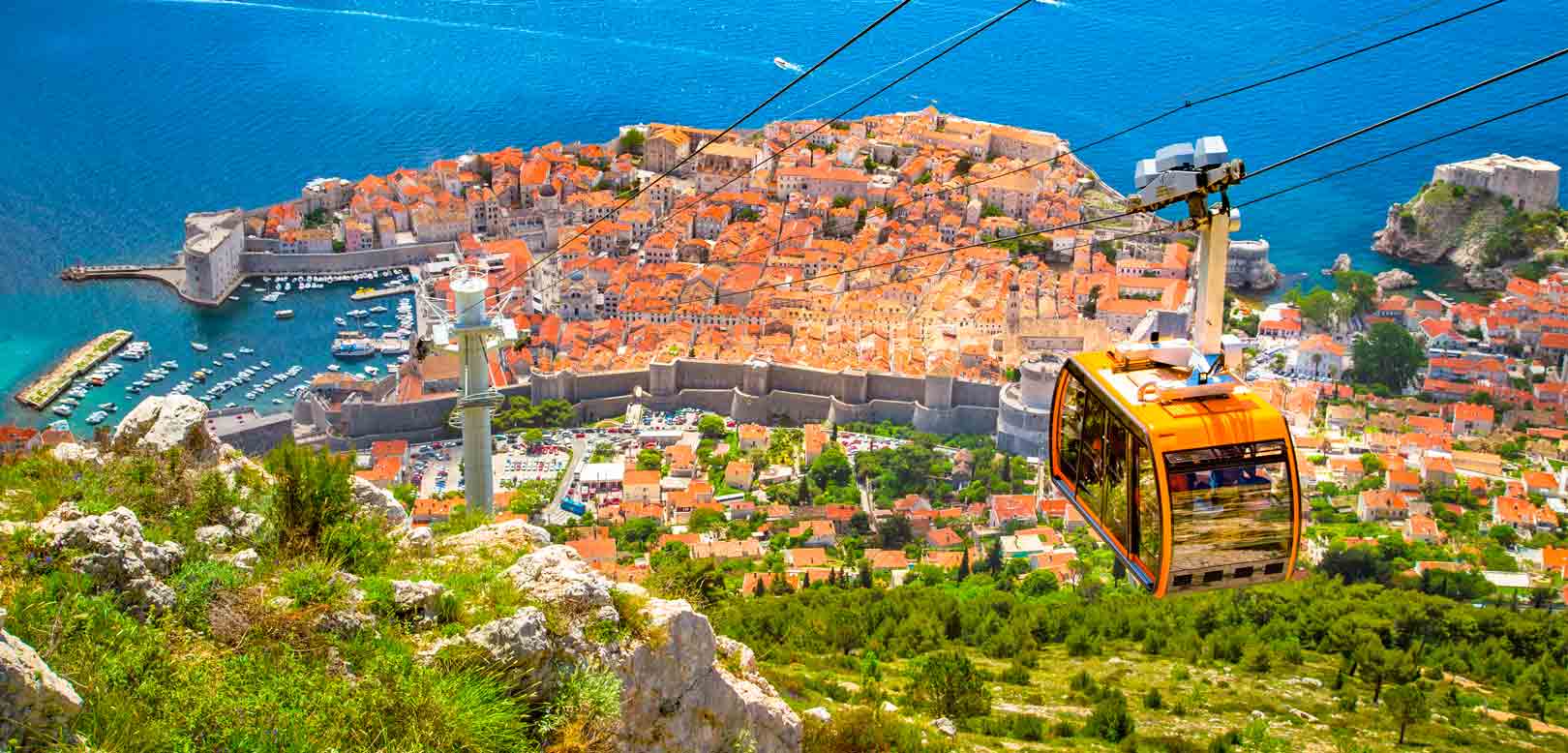 Mount Srd was an important military asset during the Croatian War of Independence as it provided a strategic frontier against Seb forces in 1991. Today, tourists can learn about this particular piece of history by taking the bright orange cable car that goes up Mt. Srd — however, this mountain's purpose is not only for ferrying tourists up and down but also for helping guests enjoy a birds-eye view of the walled city.
As you put this on your list of things to do in Dubrovnik, take note that the best time to go up here is before sunset, as the soft light makes the colors of the below buildings' red roofs stand out.
TIP: Book your tickets up to Mt. Srd online.
.
.
4.
Discover Lokrum Island
.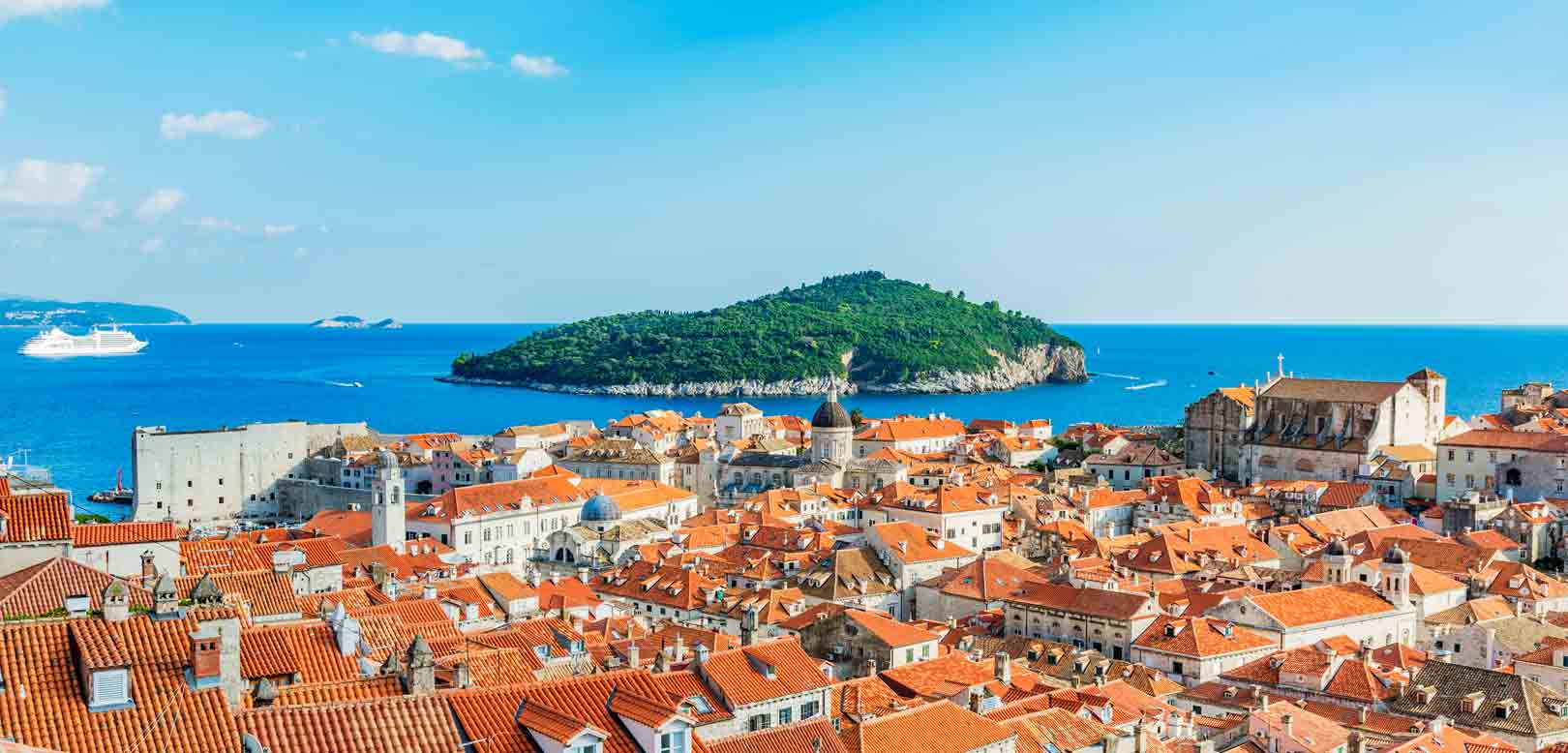 A small island, just 600m off the coast of Dubrovnik, Lokrum is a protected natural reserve and a monument of landscape architecture. It is also the largest park in Dubrovnik, covered in a lowland pine forest and fringed by rocky beaches.
Given its tranquil surroundings, if you want to take a break from city life, you should definitely spend a day here at its beaches, or kayak the clear waters and explore some hidden caves. If you're not up for some water activities, you can also just wander at the gardens.
TIP: To book a kayaking tour, book online.
.
.
5.
Feast on local seafood specialties
.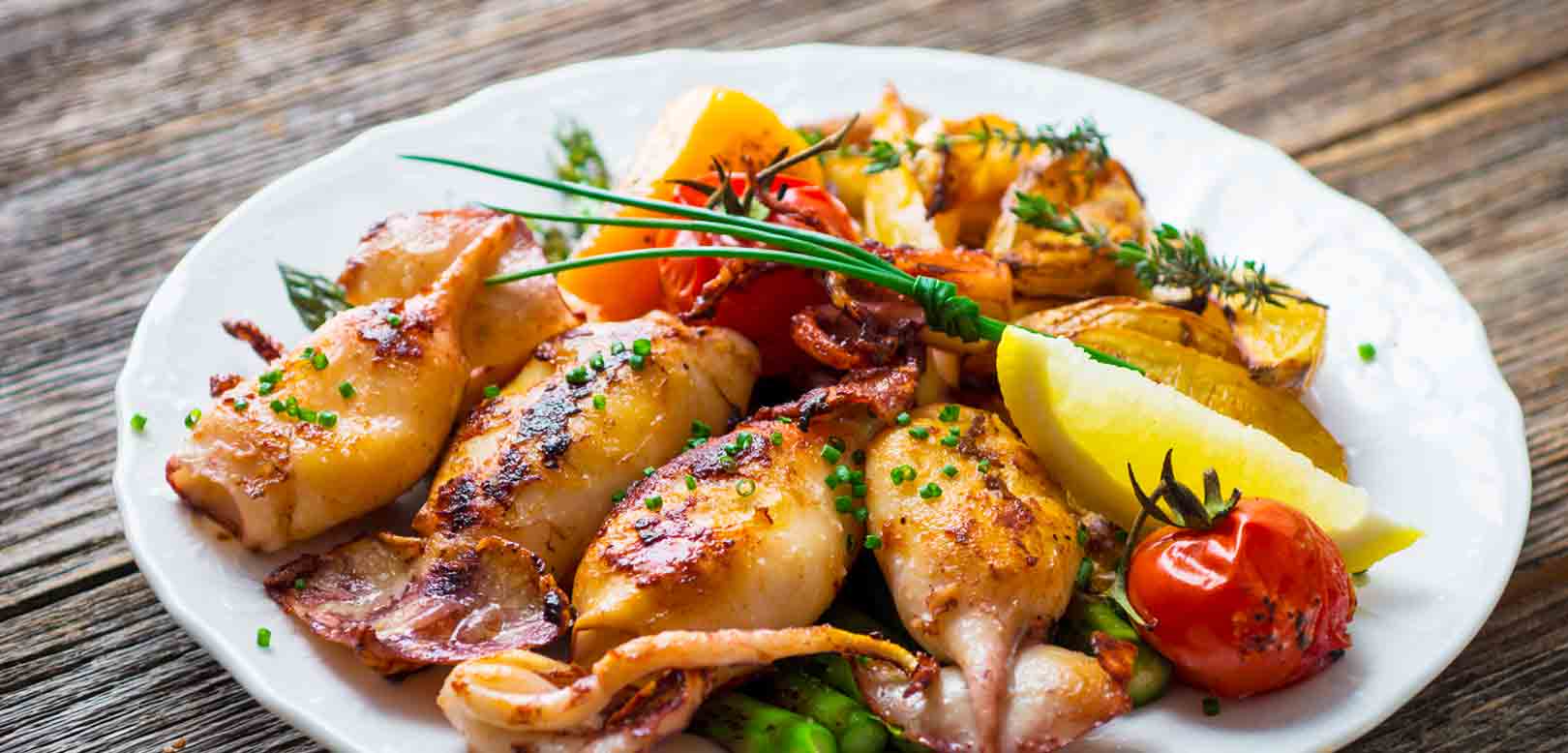 Seafood dishes or specialties are always included in every menu of the town's restaurants. Besides, with its location near the sea, many restaurants serve fresh fish and seafood; therefore, make sure to make it one of your things to do in Dubrovnik to consume these local delights!
Some of the things you must try are Dalmatian dishes that include black cuttlefish risotto, fried squid, and octopus salad. The best restaurants in Dubrovnik to try for seafood specialties are Oyster and Sushi Bar Bota, Nautika, and — of course — never miss Lokanda Peskarija, the top table in town for bargain fresh-caught seafood that's located on the main port.
.
.
6.
Taste authentic Croatian wine
.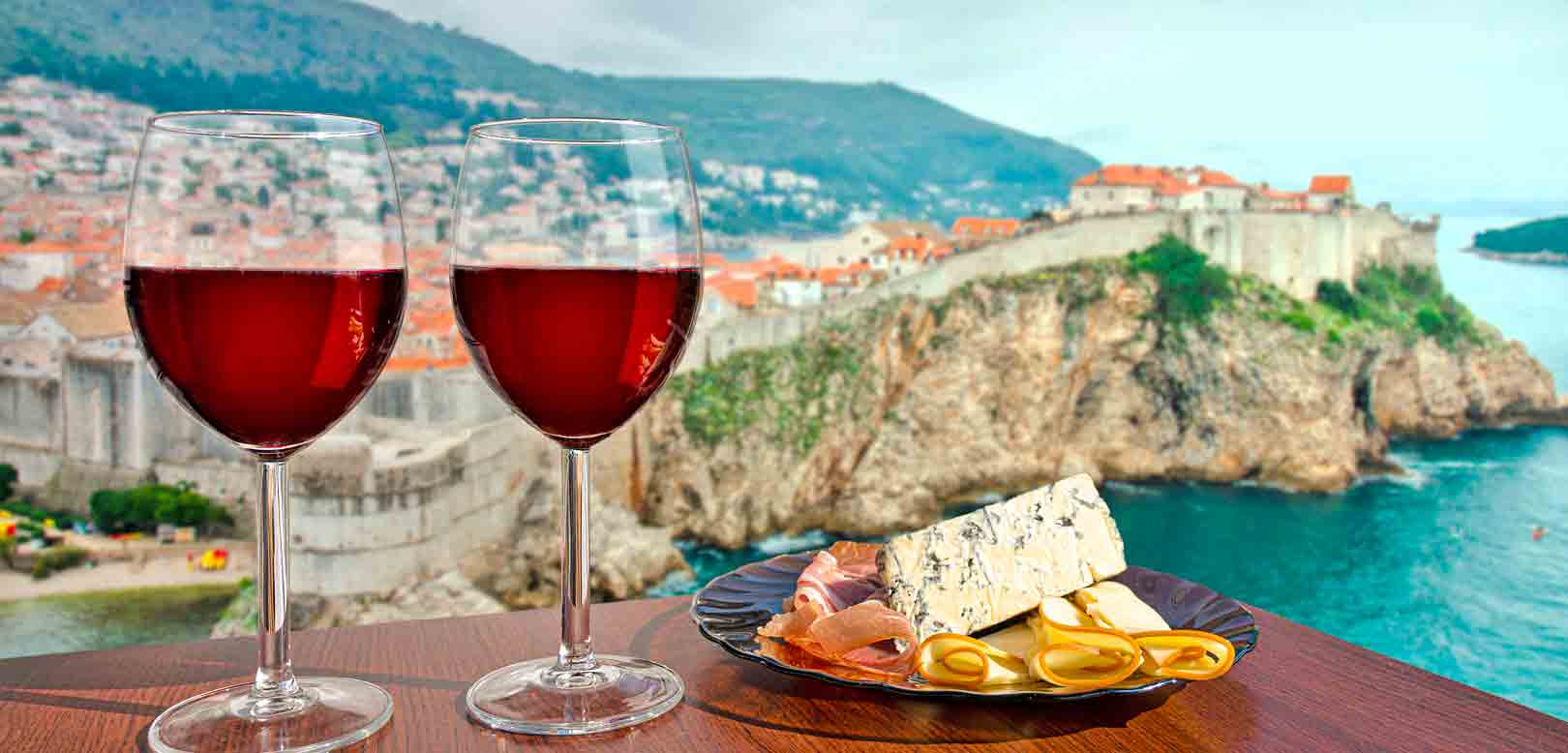 Wine is actually very popular in Croatia, and Dubrovnik is no exception. For starters, D'vino is the first place you should go to if you want to try authentic Croatian wine in town.
Most of the wines come from nearby vineyards on the islands of Korcula or Peljesac peninsula, and the best Croatian reds are Dingac and Postup. Both of these are made of Plavac mali grapes that are grown on the south slopes of Peljesac.
If you want to learn more about Croatian wines and tasting them is not enough, you can visit some of the famous wineries in the country that includes Karaman Winery in Konavle, Milos Winery, and Saint Hills Winery on Peljesac.
.
.
7.
Do a Game of Thrones Walking Tour
.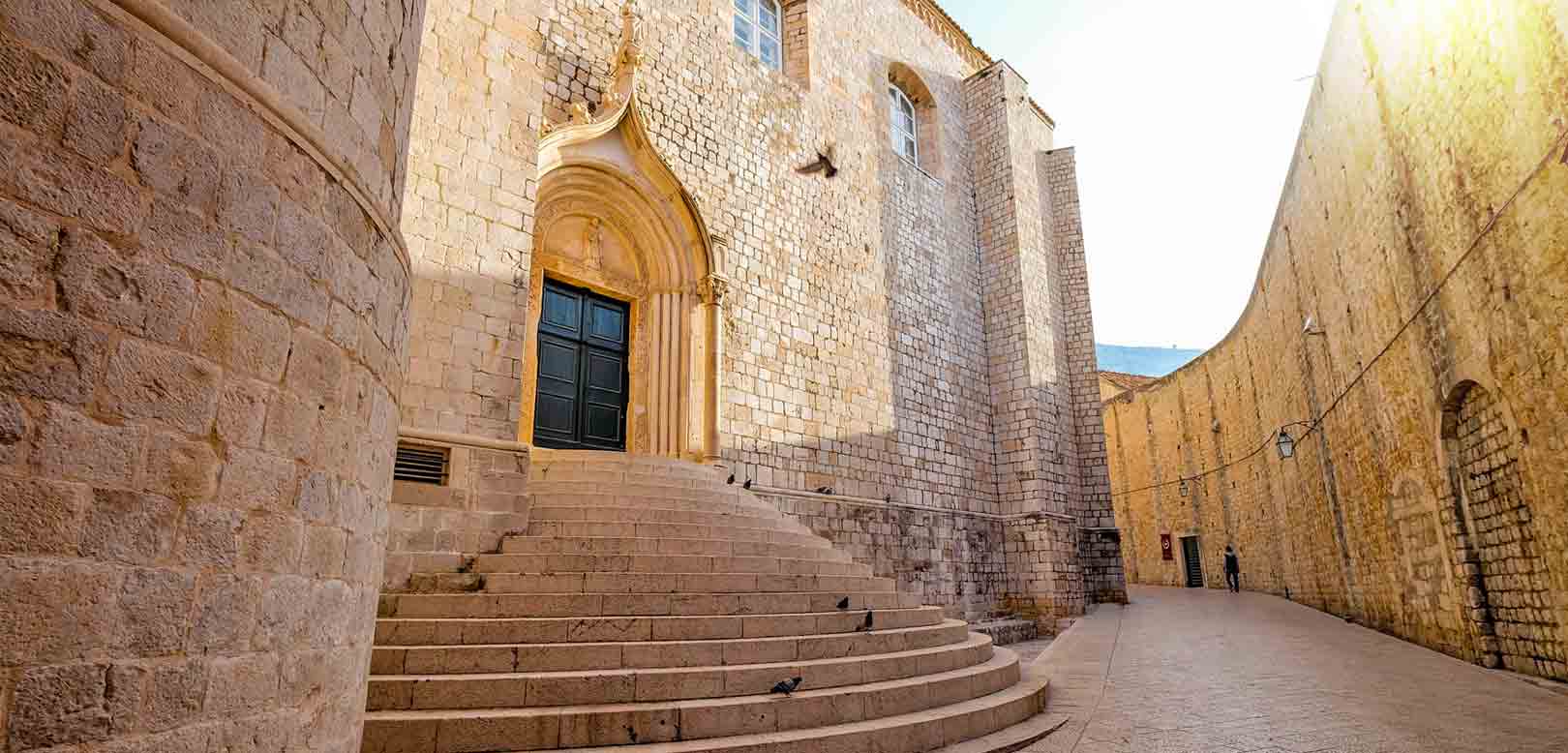 Certainly, Dubrovnik is a dream destination for all Game of Thrones fans around the world. After all, the city is one of the best filming locations of this hit series, and it is even known as King's Landing — home of the Ruler of the Seven Kingdoms of Westeros.
To date, there are several local tour operators that offer guided tours at all of the filming locations of the hit series and most tour guides have even been extras on sets, so they can tell a few anecdotes for you from behind the scenes.
The famous locations from Game of Thrones that can be seen in Dubrovnik are St. Dominika Street where Cersei made her walk of shame, Trsteno Arboretum for the Red Keep gardens, Minceta Tower used as the House of the Undying, and Pile Bay as Blackwater.
TIP: For your choice of Game of Thrones tours, check out these amazing offers [1], [2], [3].
.
.
8.
Explore Dubrovnik beaches
.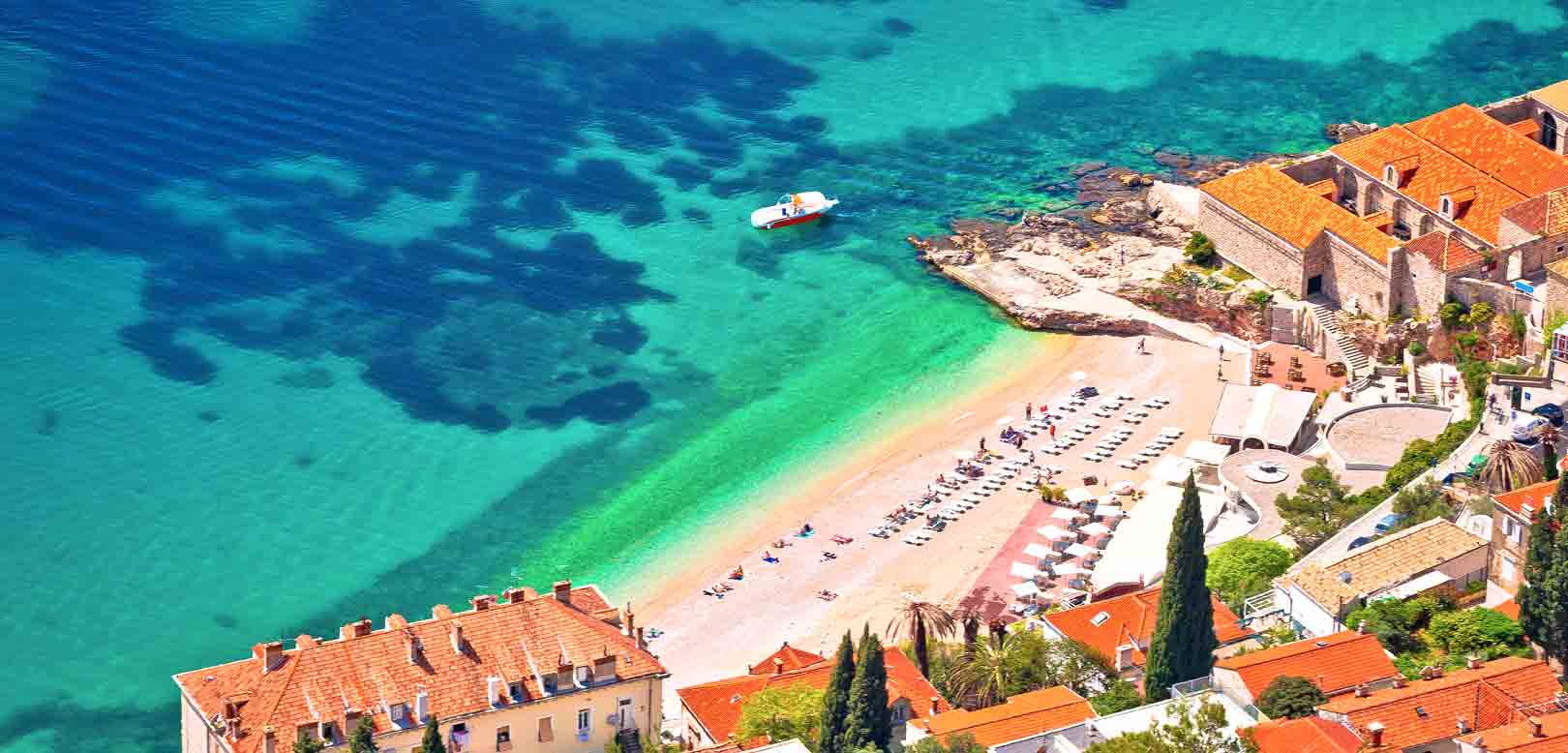 Like most Croatian beach destinations, there aren't many sandy beaches in Dubrovnik — rest assured, the water is always clear and beautiful.
That being said, you can still enjoy the coast as one of your things to do in Dubrovnik. For instance, the city beach Banje is close to Ploçe Gate, the stone entrance to the Old Town from the eastern side. Deckchairs are available to rent for reasonable rates and you can lounge as you watch jet skis cut tracks in the water. Lapad beach is also another tourist-friendly choice.
But if you want to avoid touristy spots, another Dubrovnik beach to check out is Sveti Jakov which is just past the Villa Dubrovnik hotel. The place has a quaint bar and fabulous views of the town in the distance.
If you want the whole Croatian experience, why not join a yacht sailing tour? For example, you can check out my voyage from Split to Dubrovnik here.
.
.
9.
Explore Dubrovnik museums
.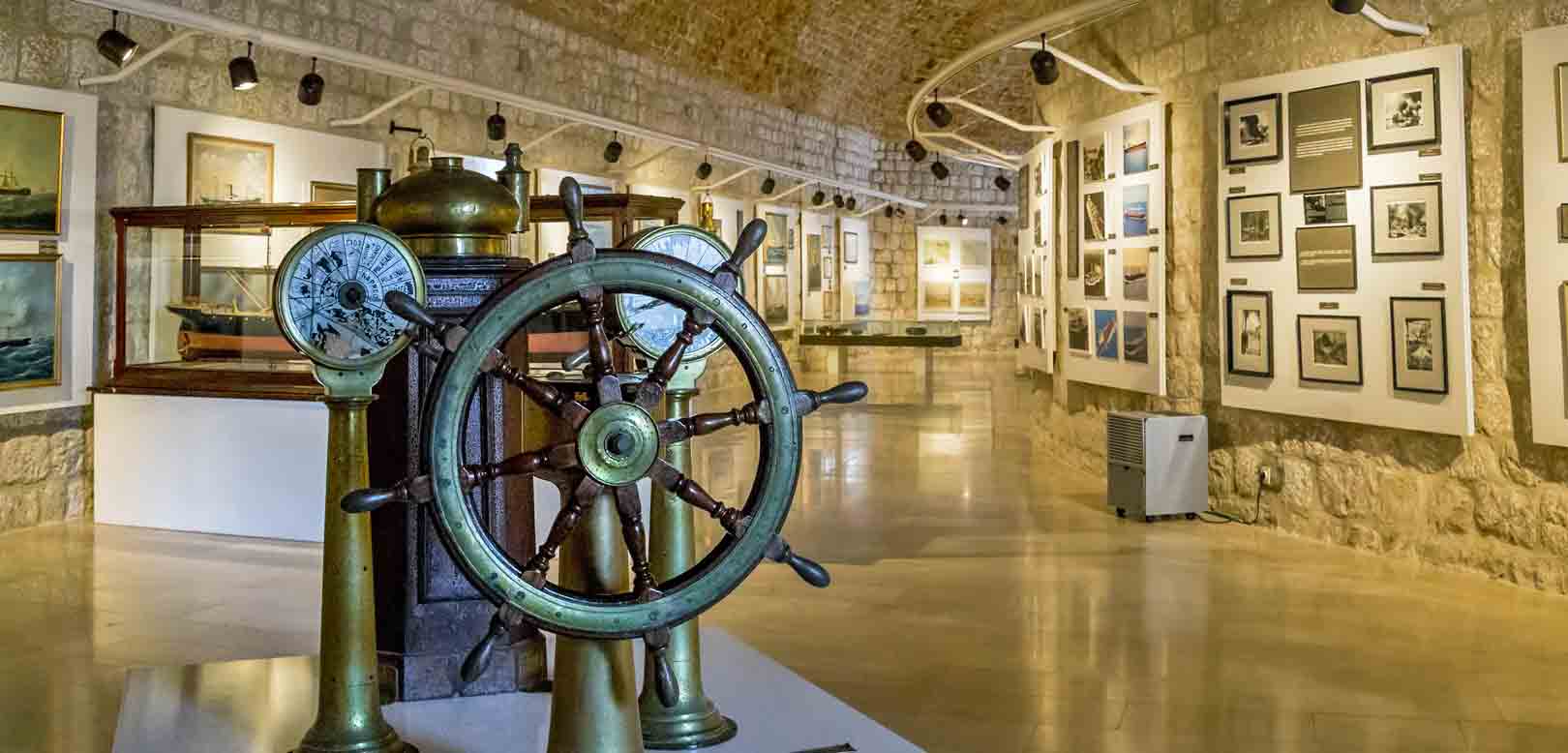 Dubrovnik's rich history is apparent in every corner of the old town, and to help enrich your experience, there are interesting museums worth exploring during your stay.
Here are some of the museums that you can choose from…
Ethnographic Museum Rupe: Features over 5,000 pieces showcasing Dubrovnik's social life, customs, and traditions of its people throughout history.
Maritime Museum: Offers nautical relics and educational exhibits about local seafaring history.
Dominican Monastery: Houses important artworks from ancient Dubrovnik. This monastery has incredible architecture as well, especially a cloister featuring elegant stonework. There is even a vibrant landscaped garden for you to wander in.
Love Stories Museum: A newly opened attraction in Dubrovnik that houses exhibitions and unique items that tell love stories from movies and TV shows that were filmed in Dubrovnik. Visitors can also see within the museum the local love stories and myths, as well as global collections of love stories donated by various people from all over the world.


.




.
10.
Take a day trip to nearby countries
.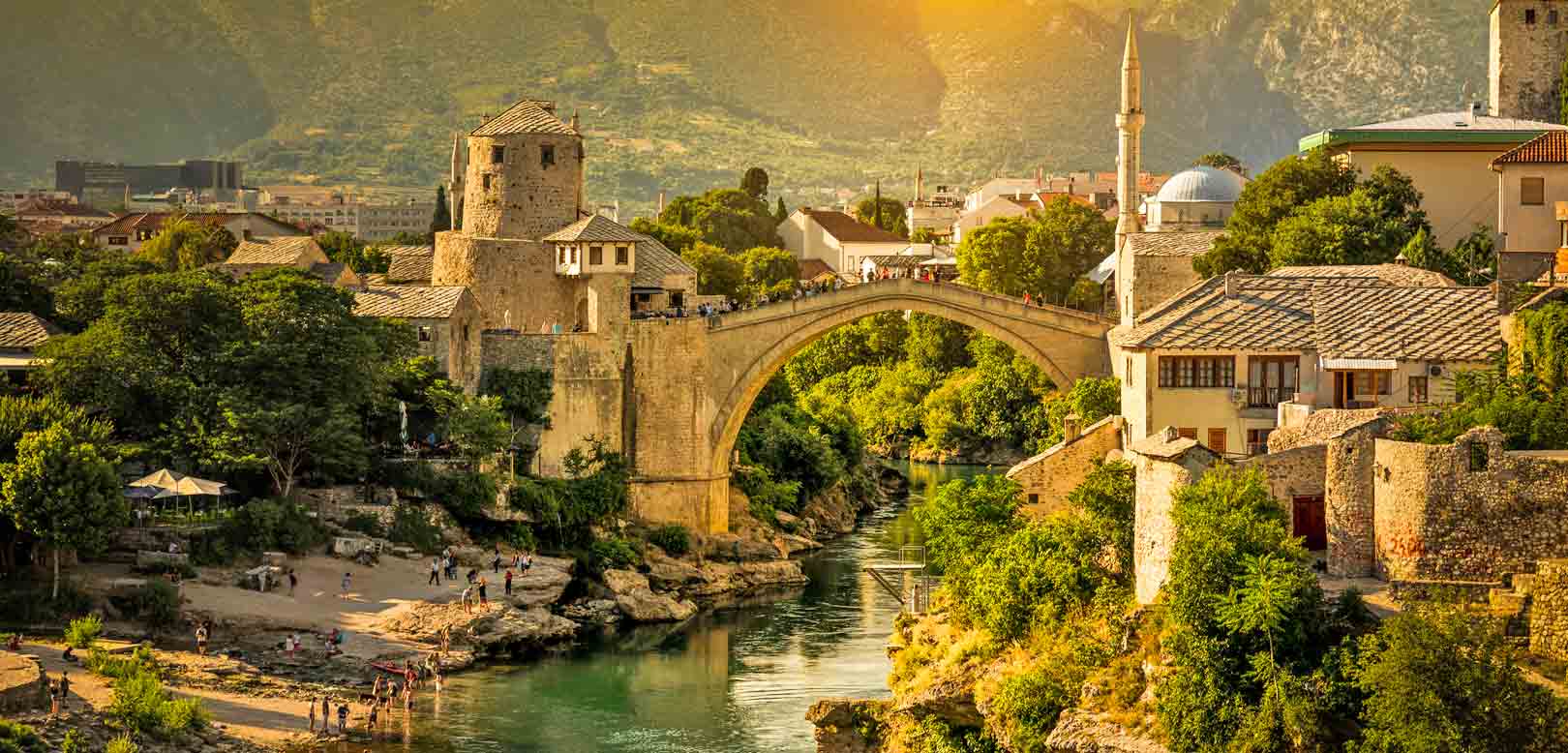 Because of its timeless beauty, it's definitely hard to leave Dubrovnik but the city is a great base if you want to take a day trip to nearby cities and Balkan countries (most especially if you're staying for a longer duration).
To start with, here are some day trips that you can consider for your things to do in Dubrovnik…
Kotor, Montenegro: Witness the charm and beauty of the Bay of Kotor and its medieval towns. For packaged day tours to Montenegro, you can check out these amazing offers…
Mostar, Bosnia & Herzegovina: Another day trip from Dubrovnik that you should consider is to Mostar, a town in the tiny country of Bosnia & Herzegovina which is popular for its charming old town and a bridge that looks like a scene in a fairytale.
Where to get the best flight deals?
My go-to platform is Skyscanner! It scours through budget airlines worldwide in order to give you the best price point possible from your location.
From Dubrovnik airport (IATA: DBV), you can ride either the Croatian Airlines' shuttle bus or the Platanus shuttle. There are also taxis that will cost 320kn to the center; but if you want a hassle-free experience, booking a private transfer is best especially if you are coming with a group of people.
How to get Croatian Kuna currency?
I highly advise that you do NOT exchange your money at the airport since the rates there are totally not competitive. What should you rather do? Either exchange your money or US dollars at a bank or at a money exchanger; or better yet, just withdraw from an ATM in Croatia with your debit/credit card. There are ATM's in Dubrovnik as well as in most of the other ports.
Rate exchange: $1 = 7~ Kuna = Php 45~
How to get around Dubrovnik?
By foot. Truth be told, the Old Town can be difficult to navigate at first due to the number of little streets and alleyways that it has (not to mention that most signs are misleading or out of date). Nevertheless, it's something that you can manage with the help of Google Maps.
By bus. If you are not staying in the Old Town, it's simple to get there by bus because just about every train line leads to it with tickets costing at 12kn at any kiosk or 15kn if bought on the bus. Nevertheless, it's advisable to get a timetable. You can even purchase a day pass to travel through the city bus network.
Helpful Croatian (Hrvatski) phrases
Hello: Bok (Bohk)
Thank you: Hvala. (HVAH-lah)
Yes: Da (Da)
No: Ne (Ne)
Goodbye: Doviđenja (Doh-vee-JEH-nyah) or Zbogom (ZBOH-gohm)
Goodbye (informal): Doviđenja (Doh-vee-JEH-nyah) or Bok (Bok)
Sorry / Excuse me (to get attention): Oprostite (Oh-PROHS-tee-teh)
Excuse me (begging pardon): Pardon (Par-DON)
How much is this?: Koliko košta ovo? (Koh-LEE-koh KOHSH-tah OH-voh?)
Is there someone here who speaks English?: Govori li ovdje netko engleski? (GOH-voh-ree lee OHV-dyeh NEH-tkoh EN-gless-kee)
Help!: Upomoć! (OO-poh-mohch)
Cheers!: Živjeli (Zhee-ve-lee) or Nazdravlje (Naz-dra-vlee)
.
.
Dubrovnik has so much to offer for every kind of traveller that no one will ever get bored and run out of things to do. So whether you're into history, culture, adventure and relaxation, Dubrovnik can cater to your very needs. It is, after all, one of Europe's hidden gems in the Balkan!
Photos above from Shutterstock
What do you think of these things to do in Dubrovnik?
Which activity would you like to try the most?
Or have you done any of these before? How was it?
The post Top Best Things to Do in Dubrovnik, Croatia appeared first on I am Aileen.