Ever since I started living in Belgium, apart from the 'high praises' that were given to Antwerp and Brussels, there were two other towns that gained a lot of raves from tourists and travelers alike: Bruges and Ghent.
I have already been to Ghent a long time ago but it was only just last month that I was able to go to Bruges; a seemingly favorite choice of Belgians when it comes to charming little old towns!
» READ: Exploring Ghent in Belgium: A Self-Guided Walking Tour
I actually first witnessed Bruge's postcard-perfect beauty when my friend introduced me to the highly-rated 2008 movie: "In Bruges (click)" (a dark comedy that tells the story of two Irish hitmen). Naturally, given the awesome coverage that was given to Bruges by this movie, I have been wishing for the chance to visit this town! And finally, I was able to set foot in Bruges, and you bet that it has exceeded my expectations!
.
Come and check out my list of the 'Best Hotels in Bruges' which features the top recommended choices for cheap to luxurious accommodation choices.
.
.
Bruges or Brugge (in Dutch which means 'bridges' in Old Dutch) is the capital and largest city in the province of West Flanders in the Flemish Region of Belgium. Though the totality of the city is 'large' in a sense, the main area of Bruges would have to be the historic city center which is very small. But even if it's only at 430 hectares in size, it is truly an outstanding example of a medieval historic settlement!
In fact, due to its magnificence, it has gained a prominent spot on the UNESCO World Heritage Sites list since 2000! And as best illustrated by the map below, you will see how the historic city is oval-shaped and surrounded by stone walls. These structures were built for security at first but had later on been improved as Bruges blossomed as a city of international trade.
FACT: At 7km long, it is interlaced with canals, surrounded by reinforcements , and 7 gates (but only 4 remain standing today with the best preserved one at Langestraat, the Kruispoort).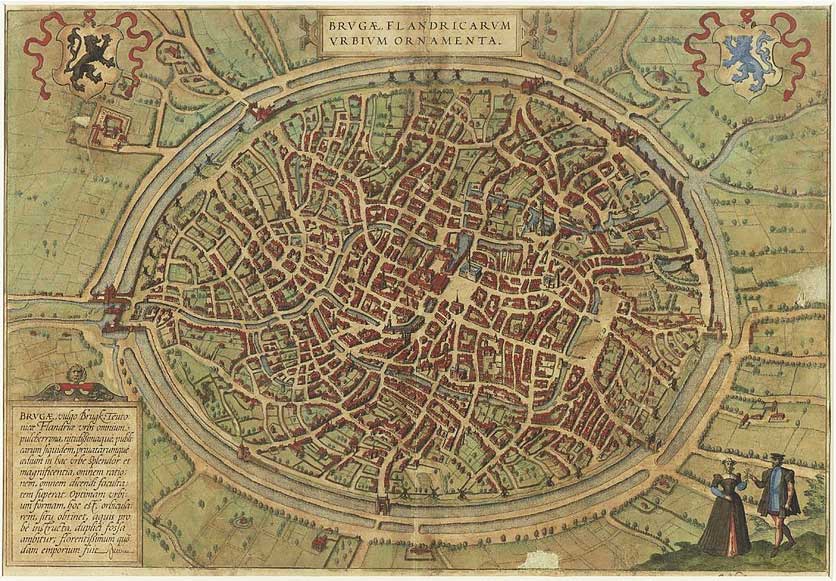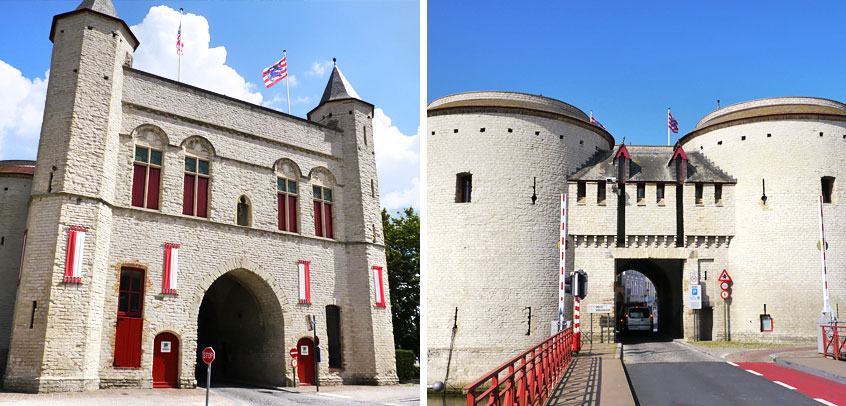 Photos by Emmanuel PARENT / CC
.
Given all this information, you now have a fair idea of how small this city can really be. But don't let its size fool you because Bruges can make you feel like you are walking AND living in a fairy tale town that's straight out of a storybook! With its cobbled lanes, dreamy canals, medieval architecture, and historic churches among many others, you're bound to have a magical time here.
Unfortunately, a lot of people are slowly learning about this treasured fact, so there are times that there is a constant stream of tourists in Bruges… yet again, don't fret!
MY TIP: Try to visit this city outside the high-peak season which would be the summer months of June to August. If you can't avoid that, try to visit during the middle of the week and then also try to stay a night.
Now, in order to give you a feel of how our picturesque break progressed, let me tell you how our trip went!
» Gettting to Bruges
The train is anyone's best bet in order to arrive in Bruges! Belgium has an excellent rail system so it shouldn't be hard for you to reach this place from the capital of Brussels, which would take about 50 minutes.
Once you're in the station, you have three options:
Taxi. The fastest choice, but do consider that European taxis can be very costly; that's why unless you have reaaally heavy bags, try to avoid this one.
Bus. The bus stop is just right outside the center and as long as you take those that have the "Centrum" sign, it will take you to the Grote Markt (center square).

★

Walk. The city center isn't so far since walking would only take you 15 minutes. We chose to do this and I highly recommend that you do so too because you can already see great sights along the way that is often overlooked!


TIP

: But if you have suitcases with you, I can't really suggest walking since once you reach the city center, the cobblestone roads can be quite a hassle for your wheels (unless you are fine with carrying them, then good!)
I mentioned the word 'overlooked' because if you take the taxi or the bus, you're bound to miss out on De Brugse Vesten! A scenic park or 'green belt' around the city's historic center that's also laced with canals. It even has a few old windmill houses here and there and it can be quite a sight. Truth be told, this is one of the perfect spots for you to escape to if in case the center remains to be really crowded for your taste.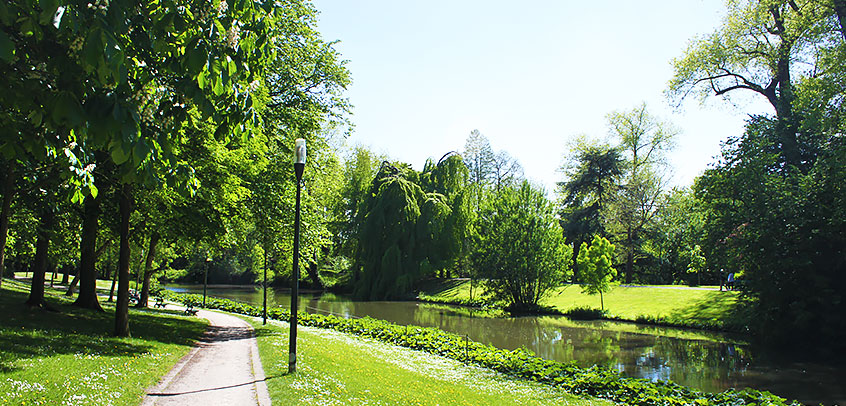 » First Inside View, Where to Stay, and A Helpful Tip:
Right from the moment that we stepped into the old city center, the vibe instantly changed… the streets became narrower, and enchanting historic houses were aplenty! (Even if they look clean and good, remember that they are centuries old).
By the way, I did tell you that the city center was full of tourists, but at the earlier parts nearer to the wall and somewhere by the residential area, it is possible for you to have your own sweet time alone — so again, I really recommend walking if you're looking for some peace and quiet.
Now, before we started the whole 'touring' spree, we first headed to our complimentary stay at Hotel Heritage and it was at this point that I learned about the awesome Discoverbruges Card — a free and personal card that is given to guests of hotels and hostels that are members of the 'Hotels Regio Brugge vzw'. So what's up with this card? It's awesome because holding this will enable you to receive reductions on most of the numerous attractions in the city! (To see a full list of these member hotels + hostels, see here. And for more information about the card, read here).
Otherwise, if you're not going to book any of the aforementioned member hotels/hostels, you can always opt for the official Brugge City Card that will help you in saving more from your travel fund. This is mainly because the whole package offers FREE admissions to museums, places of interest, attractions, as well as other amazing perks! (To see the rates, go here).
.
Top Things to Do in Bruges That We Did
Once we finished checking in to the lux Hotel Heritage, we started to embark on our exploration of Bruges!Our first aim…
» See Grote Markt (Great Market) & The Belfry of Bruges
Grote Market: Or simply 'Markt' is a large market square of Bruges that packs a lot of character! It has a prominent statue in the middle highlighting two 'heroes' of the city during a historical clash called as the 'Brugse Metten' or the Battle of the Golden Spurs. And since it is at the very center and 'THE' center of this city, you will see here a number of horse-drawn carriages, multiple shops, medieval-style buildings or guildhalls, and of course the prominent Belfry.
Photo by Richard Kendall / CC

Photo by moz278 / CC


TIP: Riding the carriages can be quite an experience, but take note that it's also a bit expensive. We opted to skip out on it since apart from the price point issue, looking at them was already a charming sight that adds to the overall personality of the Markt. Besides, we already had our fair share of horse rides from some of our travels! (But of course, we do recognize the fact that the feeling of riding this carriage in such a place like Bruges could be such an epic thing; so if you have the money to spare, then go ahead and try it!)
ANOTHER TIP: It would be nice to take a seat in one of the cafés and restaurants around this Markt so that you can admire the view; but be aware that as it is the 'center' of it all, the prices can be a bit exuberant as well! (Much like the carriages). But if you must really need a cup of jo or a bottle of beer, I suggest that you just explore the side streets around this area since you can chance upon decently-priced shops that are still in an amazing spot.
Belfort en Hallen: Or 'Belfry and Market Halls' is a medieval (12th century) bell tower rising at 83 meters and it is surely one of Bruges' most prominent symbols. A definite must-do for this belfry? Climb up its 366 steps in order to see the details of the clock tower AND the breathtaking panoramic view of the whole city!
I will already warn you by now though that the lines can be long, and that the climb can take your breath away literally due to the 'exercise'. Nevertheless, those factors aside, it will really be worth it! Like come on, just look at these views!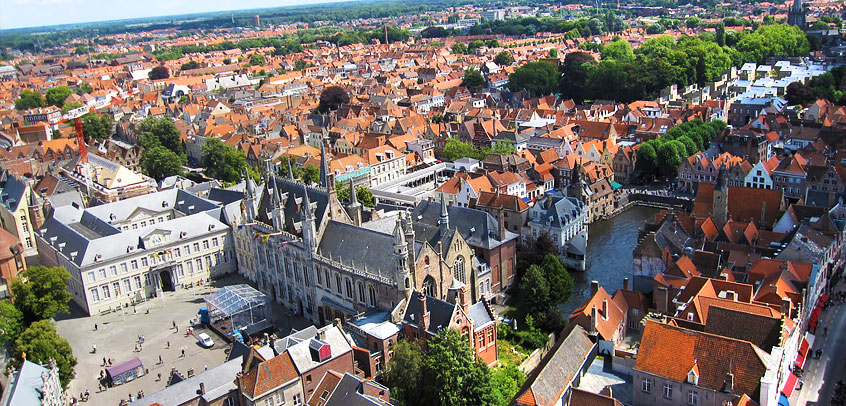 Photos by Jules Joseph / CC
.
INFO: Open from 9:30AM to 5:00PM, entrance fee is at €8 (Php 400+) but can be only €6 (Php 300+) with the Bruges City Card.
TIP: To avoid the queue, try to go early in the morning. If you're a family, of course it would be nice to bring your kids along, but take note that it can be quite hard for the kids to do it (add the fact that with a crowd, it could be tough to handle them in such a narrow space). Rest assured, there are rest stops along the way so you won't have to worry about bothering other people if in case you are out of breath.
* * * * *
» Witness the '2nd market square': The Burg
In here, you will see a showcase of various buildings in different architectural styles! There's the Gothic town hall, the Renaissance-styled Old Civil Registry, the Neo-Classicist former Court of Justice building, the Baroque-styled Deanery house, and the late-Gothic Chapel of the Holy Blood.

Photo by Richard Kendall / CC
.
While we were here, there was a group of African performers that were getting ready for a performance someplace else and there was this one guy who was so happy whenever I would point my camera at him!)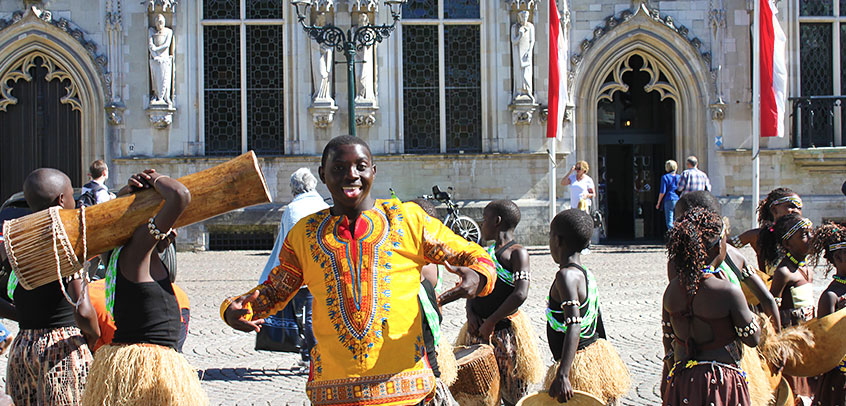 * * * * *
» Do a Canal Cruise
Well of course, a trip to Bruges would NOT be complete without this experience! It's surely a 'touristy' thing to do, and it can even breeze by the city in a manner that might make you feel that it went by too fast (even if it lasts for 30 minutes) — but I will still keep on recommending this experience because it was surely a different and beautifully 'angled' way of seeing the city! As a matter of fact, the ride made us see several wonderful spots that wouldn't have been normally reached by foot.
Below, you will see the most photographed area in Bruges: Rozenhoedkaai which is near the Relais Bourgondisch Cruyce hotel (also featured in the movie 'In Bruges') and which is where you will see the cluster of canal cruise providers.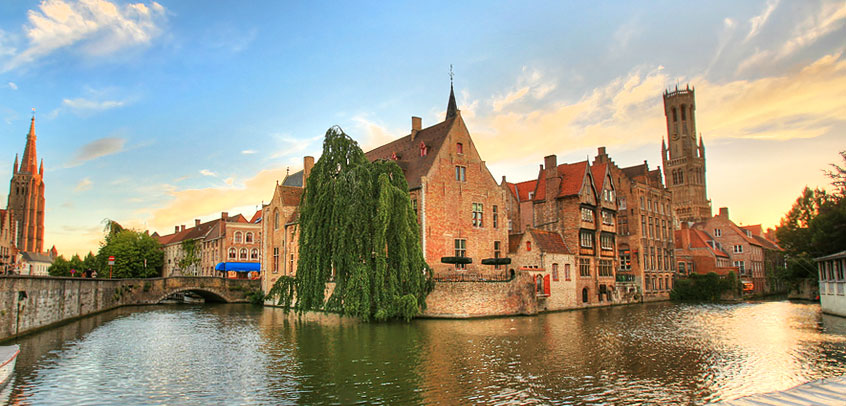 Photo by Steve Jurvetson / CC
.
INFO: They cost around €8 (Php 400+). Opens at 10:00AM and closes at around 6:00PM (some even earlier at around 5:00PM).
One of the awesome things about these canal cruises is that the guides are multilingual, funny, and chatty! …Well at least our tour guide was that kind of person.
Along the way too, the first notable thing that we saw was their 'mascot', Fidel, who is a seemingly lazy dog that always picks this window by the canal for his afternoon naps.
Photo by Nuwandalice / CC
.
Apparently, he is a 'resident' of a bed and breakfast called Côté Canal at Groenerei (Green Canal). Because of his adorable behavior, he has become quite a landmark in Bruges for years that he even made a cameo in the 'In Bruges' movie! Isn't that adorable?!
UPDATE: As of February 2, 2016, you won't be seeing Fidel anymore. Regrettably he died because of health complications. 🙁 He will definitely be missed! From here on out, I bet a lot of visitors will glance by his window and miss seeing him there.
Another highlight of the trip would be Minnewater Park or the 'Lake of Love' which is swarmed with a lot of elegant swans. It was such a sight! There were certain sections for sure in the canals where swans were waddling about; but it is in this park where you will see PLENTY of them.
Photo by Dennis Jarvis / CC
.
TRIVIA: Swans are also one of the symbols of Bruges and there's actually a legend surrounding them. It seems that in the 1400s, the people of Bruges executed one of the town administrators who had a family coat of arms featuring a white swan. To punish the townspeople of Bruges for doing such a thing, the court obliged the population to keep swans on their lakes and canals forever! …Sounds like a lovely punishment if you ask me, but it's a very surreal legend, don't you think?
TIP: If you want total 'exclusivity', wake up waaaay early in the morning to explore Bruges and you're bound to have a very enchanting time as you feel as though the town is all yours! (The same applies if you explore at the wee hours of the night).
* * * * *
» Just Walk Around and Explore
Remember how I said that Bruges is small? I have to admit that I first, I thought my friend was kidding and it would tire me out to try and explore everything… but of course I was wrong. Bruges' center is really small, so I suggest that after doing the three aforementioned activities, go and just walk around. Through this way, you're bound to see a famed spot in the city or a low-key one at that!
Of course you can do museum trips (e.g.: Basilica of the Holy Blood, Choco-Story Museum, etc.), brewery tours (e.g.: De Halve Maan), and other historical escapades around the city as you go (check out TripAdvisors top-listed ones at that) but if you're like us who didn't have much time at all to spend for such activities, you can just stroll around and drop by the key places below:
Onze-Lieve-Vrouwekerk – Or the 'Church of Our Lady' is at 122.3 meters high and it remains to be the tallest structure in Bruges and the 2nd tallest brickwork tower in the world. To add more to its grandness, it is actually in this church where you will see one of the masterpieces of Michelangelo which is the sculpture of the Madonna and Child.
Bonifaciusbrug – Or 'Bonifacius Bridge' is yet another scenic place in Bruges that can enchant you given its marvelous view of the Church of Our Lady and the Gruuthuse Palace (just near the Groeninge Museum). It absolutely has a feeling of 'secrecy' to it; add the clattering of the horse-drawn carriages that pass by on the nearby street and you're sure to have a mystical time.
Photo by Derek Winterburn / CC
.
Groeninge Museum – I'm not talking about the museum that houses an impressive array of Flemish paintings, but I'm talking more about the courtyard outside this museum as it was such a great spot for lounging! (As it happened, we took our time in slurping down our ice cream cones here as we sat by one of the cozy wooden benches.)
Begijnhof (Beguinage) – A truly tranquil place that's full of white-washed houses circling a vast garden covered with large poplar trees. Founded in 1245, it was here where the beguines of Burges lived during the last 7 centuries up until 1937. It's sure to be an escape from the crowds but just make sure that you keep quiet because nowadays, this is a monastery inhabited by sisters (or 'nuns') of the Order of Saint Benedict.
Minnewater Lake – Further down from Minnewater Park and near Begijnhof is this picturesque lake that will capture your heart. This was the ending spot for us as we walked around Bruges and I can tell you with utter honesty that its serenity and beauty was the best 'trip-ender'!
BONUS: Go to Wollestraat 8 and you will see an amazing Beer Wall!
.
» How to Get to Bruges?
By Car. Take the E40 highway and watch out for signs to 'Brugge Centrum'. Take note though that since Bruges is a small town, you can't take your car in. Well, you can, but it will be difficult with its small streets. Nevertheless, there are a lot of car parks outside the city center.
By Train. Belgium has a good train system and from the capital, Brussels, heading to Bruges will only take you 50 minutes.
TIP: Pick the "IC" marked trains since they travel faster.
By Plane. The closest airport would be Brussels, Charleroi (Brussels South), and Lille.
» If you want a more detailed transportation planner, try using Rome2Rio! I am in love with this platform since it gives you all the possible routes.
» Where to Stay in Bruges?
» Check by Booking.com for the best deals on other hotels, inns, and hostels in Bruges!
.
Bruges is truly the best place for you if you want to be transported back to the medieval times — or better yet, to a fairytale storybook set-up. (It's no longer a wonder for me now as to why UNESCO made the whole city center a World Heritage Site!)
Though there might not be a lot of activities to do, it still a great place to unwind in, and a great destination if you're looking for spectacular views. Like I've mentioned time and time again, just plan your visit very well to avoid the crowds and you're bound to have a perfect time in this magical town!
LAST TIP: …aaaand of course, since you're in a Belgian town, make sure to try the famed Belgian treats and dishes! (» READ: 25 Things That Everyone Needs to Eat & Drink in Belgium)
Have you been to Bruge? How was it?
Or do you want to go to Bruge? Why so?
What's the first thing that you would want to do?
The post Bruges Travel Guide: A Picturesque Medieval Town in Belgium appeared first on I am Aileen.